The weight of Predator pool cues can be adjusted by unscrewing the cue butt bumper or rubber and adding or removing weight bolts to achieve your desired weight.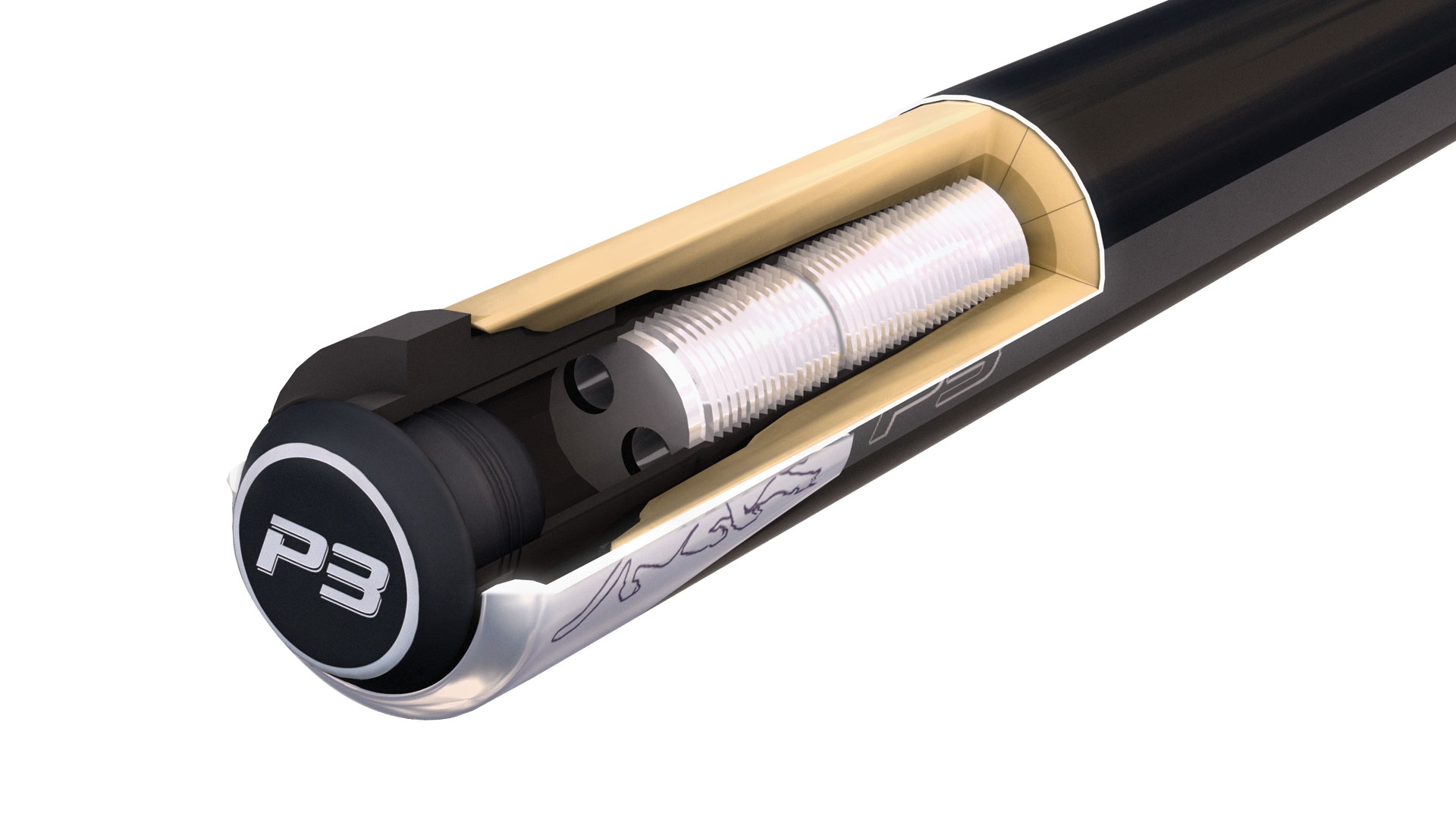 Predator pool cues made since 2008 have a Uni-Loc Weight cartridge system shown above, and their weight can be adjusted using the Uni-Loc Weight Cartridge Kit shown, below and that you can purchase here:
USA customers: https://www.predatorcues.com/usa/uni-loc-weight-cartridge-kit.html
International customers: https://www.predatorcues.com/int/uni-loc-weight-cartridge-kit.html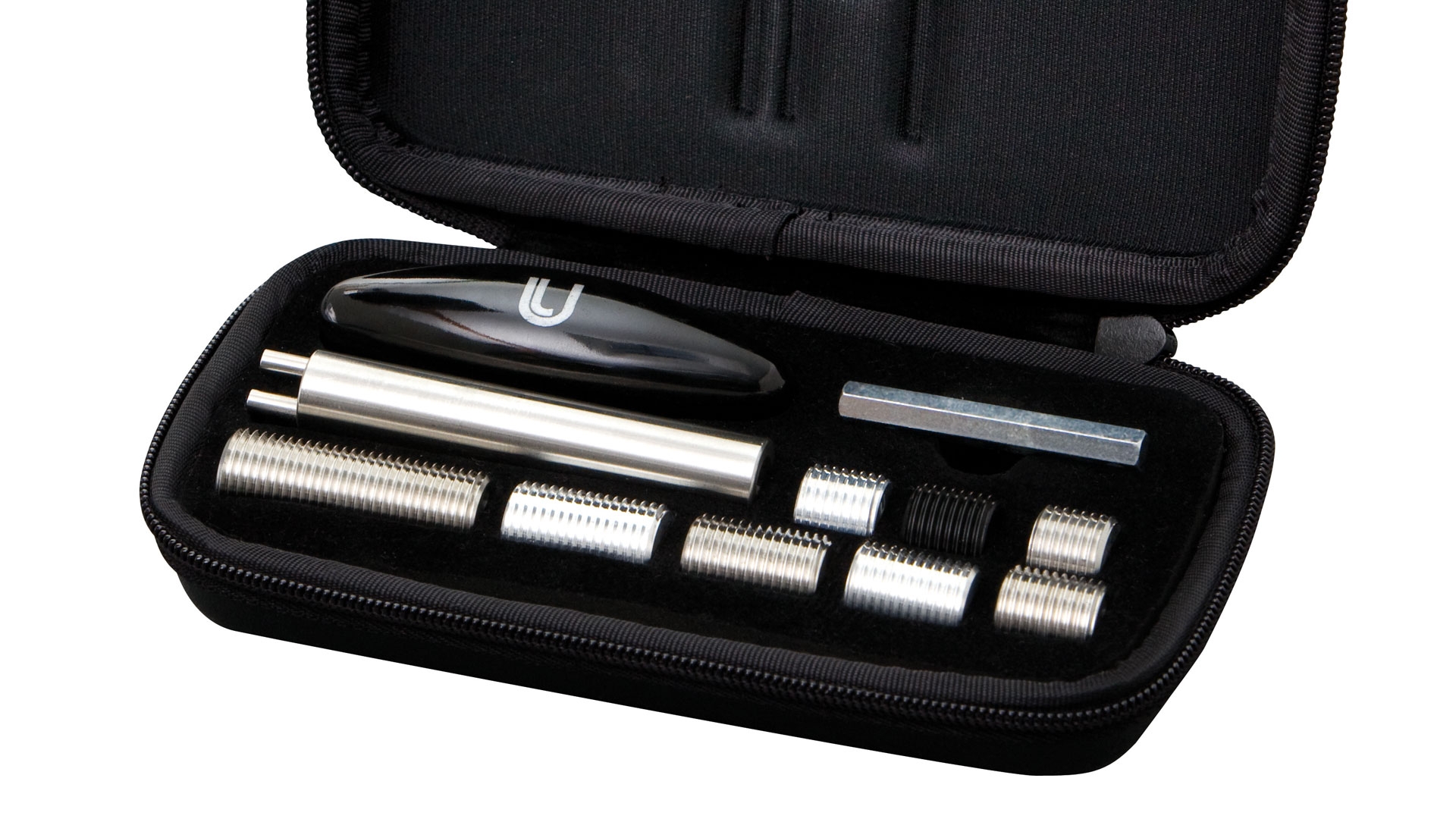 The Uni-Loc® Weight Cartridge Kit lets you fine-tune the weight of your cue within a tenth of a ounce (0.1 oz / 2.83 gr). Eight different weights, ranging from 0.1 oz. to 2 oz., give you up to 30 possible weight combinations for unmatched precision. The versatile installation tool has dual prongs that interlock with each weight and a detachable handle. The tool can be used with the handle for easy on-the-go tuning, or with a drill bit for lightning fast tuning at home.

Weight sizes in Ounces: 0.1, 0.2, 0.3, 0.4, 0.5, 0.7, 1, 2 oz.
Weight sizes in Grams: 3, 6, 8.5, 11, 14, 20, 28, 57 gr.
Since the weight bolts do not have a head, the weight bolts can be stacked to get to the desired weight (for example using a 0.5 oz bolt, and then a 0.2 oz on top of it to add 0.7 oz). If stacking weight bolts, they will need to be tightened well together to prevent buzzing sounds.
In order to determine how much your cue's weight can be adjusted, you will need to find out if there is a weight bolt inside, and identify that weight. Once the length and weight of the bolt is known, you will be able to understand the range by which your cue weight can be adjusted. You can lighten the cue by the weight of the current weight bolt. You can also increase the weight by using a heavier weight bolt.
The maximum amount of combined weights that can be added into a butt at one time is 3.5 oz or 100 gr.
The dry weight of our cues is typically 18 ounces; 14 ounces for the cue butt, and 4 ounces for the shaft. Customers have the opportunity to customize the weight to 18.5, 19, 19.5, and 20 ounces, at checkout.
Your cue may already have a weight bolt inside of it, as wood tolerances may require us to add weight to a cue butt, when the dry weight of the cue is under 18 ounces. This will also affect how much weight you will be able to add to your cue.
After you have removed any weights from inside your cue butt, we suggest using a Pelouze scale, or something comparable, to weigh your cue butt and shaft to determine the dry weight. From there, you may be able to adjust to your desired weight.
Predator does not sell the weight bolts, separately. If you are searching for individual weight bolts, you may want to check with one of our Predator Authorized Dealers. Please see the links, below.
The Uni-Loc weight cartridge system and weight bolts are compatible with the following Predator cues series:
8K SERIES
9K SERIES
BK III SERIES
BLAK 2, 3, & 4 SERIES
CRM SERIES
IKON2, 3 & 4 SERIES
ROADLINE – SNEAKY PETE SERIES
P3 SERIES
SP6 SERIES
SPORT II SERIES
THRONE SERIES
LIMITED & SPECIAL EDITIONS (2012 & NEWER)
BK RUSH
ALL PREDATOR CAROM CUES
MOLINARI BY PREDATOR CAROM CUES MADE BEFORE 2019
If you have a Predator cue made before 2008, please refer to the following article to find compatible weight bolts:
Weight bolt size for Predator cues pre-weight cartridge system